CheckMate is a simple-to-use, flexible, cost effective solution for employee safety when working alone.
Watch to see how it works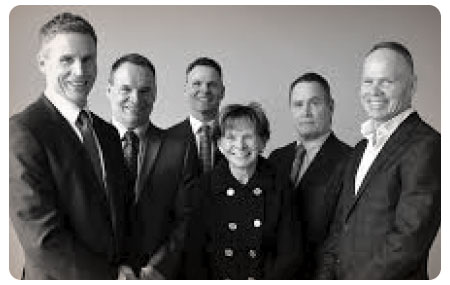 ProTELEC is a family-owned company that has been protecting life and property for over 50 years. We are one of Canada's largest independent security and safety alarm companies and the Winnipeg alarm company of choice since 1968.
We have installed security systems for thousands of clients and have a strong presence across Western Canada. Our team of experienced security and safety consultants design custom business security alarm systems for organizations of every size, in a wide range of industries. We work with trusted local partners to deliver high-quality personalized service, ensuring that the unique security needs of every property are fully addressed.
What makes us different?
ProTELEC is more than a commercial security company. As an industry-leader we focus on preventative, proactive security services. Our emphasis on personnel safety has made ProTELEC CheckMate Working Alone the lone worker safety system of choice for organizations across North America.
Our proactive security monitoring services are integrated seamlessly with our emergency monitoring centre. Our commercial alarm monitoring and emergency response facility is in Winnipeg and was the first in Canada to be certified 'Five Diamond' by The Monitoring Association, an organization whose mandate is to maintain the highest standards of excellence in the North American alarm monitoring industry.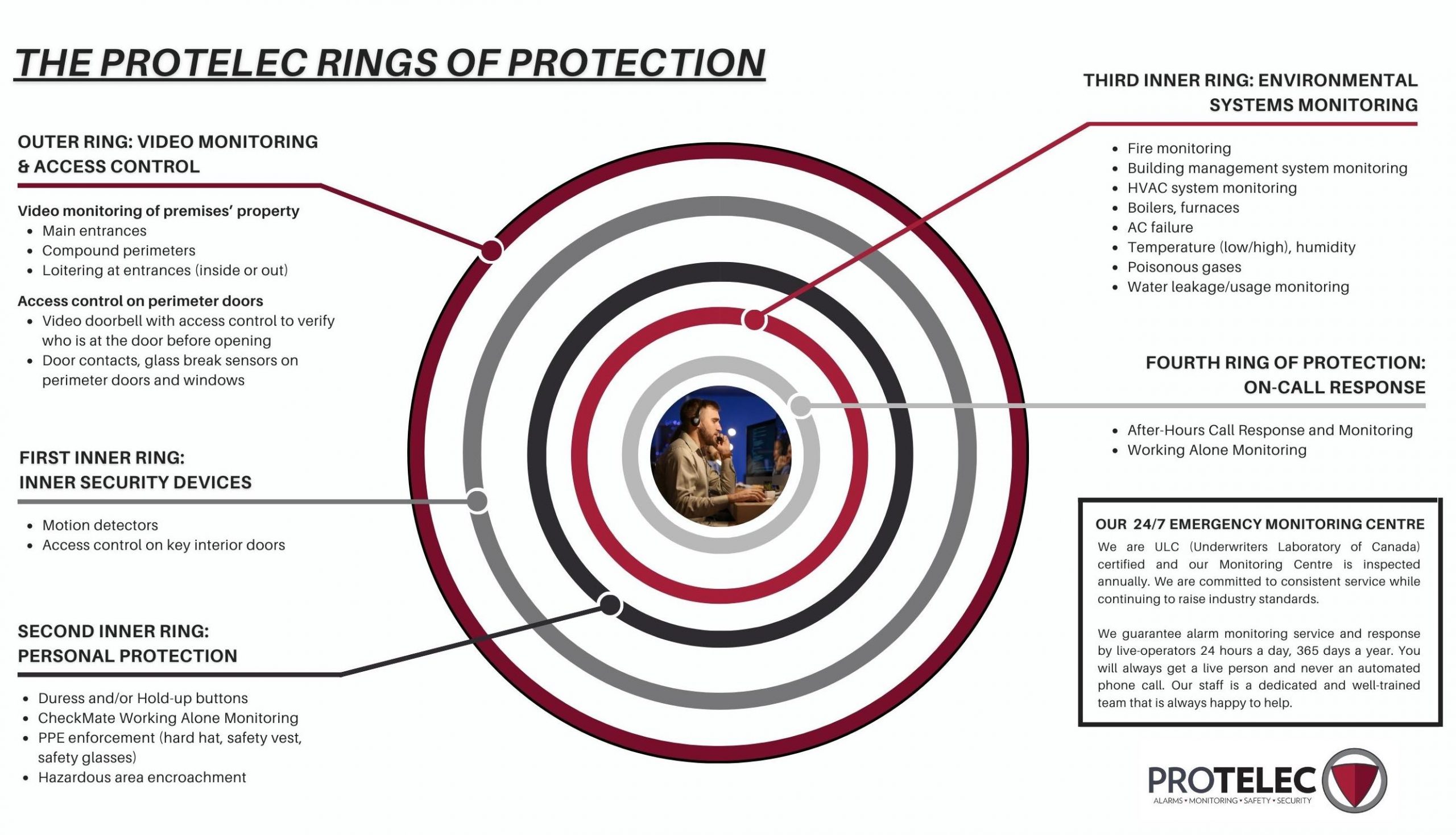 The ProTELEC Philosphy of Prevention
From break-ins to burst pipes, the costs of even a minor safety or security incident can quickly add-up. ProTELEC provides comprehensive tools and monitoring services to help protect your property, personnel, and bottom-line. 
The outer ring protects vulnerable points of entry with commercial security cameras and two-way audio. With our deterrence monitoring services, an unauthorized person approaching these entry points after business hours is greeted by our professionally trained operators and a guard response can be quickly dispatched, preventing break-ins and vandalism.
This ring of protection consists of perimeter security devices including door and window contacts and glass break detection, set to trigger when someone enters the building. Access controls can be added to key entry points to track and control access and entry by authorized and unauthorized staff.
The second inner ring of protection includes motion detectors placed in key areas throughout your business to catch intruders entering through other means such as roofs and crawl spaces.
The final ring of protection includes monitoring of environmental conditions such as fire detection via smoke and rate of rise detectors, carbon monoxide, low or high temperature, humidity level, water leakage, and AC power failures. We also provide discreet panic alarms, lone worker monitoring, and elevated body temperature screening to help protect your personnel.
Peace of Mind Warranty
With ProTELEC you can enjoy the peace of mind that comes from having a well-protected building. We also offer a comprehensive warranty program for your alarm system. If your alarm system requires a repair, we will fix the problem and restore your system. We deliver on this promise promptly, with service on the same or next business day. It's called our Peace of Mind Warranty Program (POM) and it is available to all our commercial monitored customers.
The POM rate charged per month is dependent upon the number of devices that are being monitored by ProTELEC. Monitored devices can include door switches, motion detectors, hold-up switches, keypads, smoke detectors, and more. For only pennies a day you are eliminating the possibility of future unexpected and expensive repair bills. Choosing this warranty program helps to ensure that your alarm system is always protecting your employees, your property and your livelihood.
Please contact us for more information about Peace of Mind Warranty Program pricing and options.