To aid in preventing the expensive and dangerous consequences of undetected infrastructure failures, ProTELEC provides sensors and monitoring for many environmental factors:
Water flow
High/low temperature and humidity
Carbon monoxide and other gases
AC power failure
Water leakage
Water Flow Monitoring
With a water flow sensor installed & monitored by ProTELEC, you can protect your building and business operations from the damage an unattended water pipe break or leak can cause.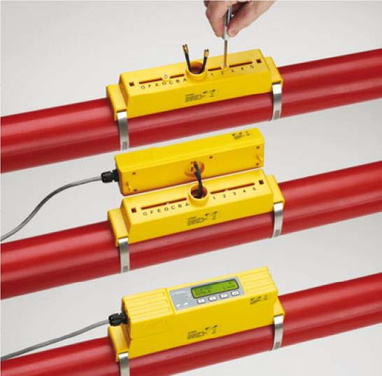 Why Use Water Flow Monitoring?
Water can be very destructive whether it seeps from a loose fitting or gushes from a broken main. A copper pipe that feeds a faucet in your building could suddenly rupture. Freezing winter conditions will often cause water main ruptures, and if the event occurs on a weekend the pooling water will cause extensive damage not only to the floor area where the leak occurred, but also to any areas below into which water can seep. The clean-up costs and the business interruption costs could be massive.
Low-Cost Measurement from Outside the Pipe
An ultrasonic permanent/fixed clamp-on flow metering device can alert you to water pipe issues before they cause costly damage to your property: The consequences of an undetected water main leak or rupture are substantial:
Clean-up and repair costs
Lost time and productivity, temporary closure
Increased insurance premiums
Onsite management and repair coordination
With ProTELEC's Water Flow Monitoring System a water flow sensor is installed in your building at the main source to monitor water flow after business hours when the Security System is on. The sensor trigger point is calibrated based on a minimum after-hours flow setting, which when reached, sends an alarm to our Monitoring Centre for immediate response.
ProTELEC water flow monitoring solutions are suitable for:
Commercial properties
Schools
Offices
Food production
Energy Management
Monitor flow and detect any emergencies for pipes carrying:
Potable Water
Chilled Water
Hot Water < 85°C
Demineralized Water
Chilled Water w/ Glycol