ProTELEC is an authorized installer and service provider of Alarm.com products for businesses and organizations.
Delivering smart property security with alarm and video surveillance, managed through an intuitive monitoring app.
Specializing in smart security camera systems for indoor and outdoor use, Alarm.com carries a full-range of fixed and panning cameras, with the option to access live video or recorded clips through an app on your phone, tablet, or smart device. With ProTELEC installation, maintenance and monitoring services, cost-effective and high-tech integrated surveillance systems are possible for businesses and organizations of any size.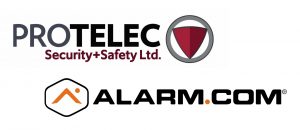 As an authorized installer and service provider, ProTELEC brings the added value of 24/7 Emergency Monitoring options, additional security tools and features, and a wealth of industry knowledge to ensure that the most suitable Alarm.com system elements are installed, meeting the unique security needs of your property.
Alarm.com security devices use a dedicated, tamper-resistant connection to ensure security coverage even when the power is out, or if cable and phone services are down. Users can be assigned unique codes, allowing access and alarm activations to be tracked in detail.
Alarm.com Apps and Smart Phone Integration
The Alarm.com apps provide a hands-on interface, accessible through a smartphone or tablet, putting an intuitive design and all of the features and settings of your security system at your fingertips.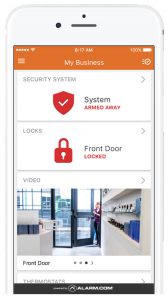 ProTELEC and Alarm.com can also deliver solutions for access control, including smart locks and door integration. Energy management and monitoring tools can be added to an Alarm.com system, allowing for comprehensive control over all aspects of your business, managed from the easy-to-use Alarm.com app.
To learn more about our cutting-edge smart security alarm and video surveillance monitoring technology, contact ProTELEC to receive a callback within 24 hours, or call us directly at 204-949-1417 to speak with a member of our Security Consulting Team.