Recent technological advances have directly impacted how we protect businesses and how we interact with our customers.
For decades, most alarm security systems were designed only to be reactive. Most commercial security systems function by being triggered when something happens, often too late to prevent damage. For example, when someone breaks-in, an alarm might be triggered by:
Opening a door that has an alarm contact on it
Walking through an area protected by a motion detector
Smashing a window triggering a glass break sensor
Once an alarm is triggered, an Emergency Monitoring Centre will receive an alarm and will call to notify property and business managers that an alarm system has gone off. What they can't do is confirm what triggered the device; was it a person, an animal or perhaps nothing? Nor can they prevent a break-in and the potential resulting damage or theft from occurring.
With today's property and business security technology, we take a much more proactive approach. Instead of notifying our customers only after an incident occurs, we provide commercial security systems that consist of "rings of protection", enabling us to provide a preemptive and proactive response.
No longer do we have to wait for an actual breach to occur. Our pre-emptive monitoring and response will result in hard dollar savings over the years, preventing physical damage to property that can be caused not only by break-ins or vandalism, but also due to mechanical failures, water leaks or fires.
Preventing Damage with Water Flow Monitoring
The cost of a water leak left for hours can be massive. Many years ago, a customer of ours closed their business for the day and armed the security system at 6pm. The following morning at 4am our Emergency Monitoring Centre received a burglar alarm from a main floor office motion detector.
We dispatched our guard who entered the building and discovered water several inches deep on the floor. The leak had started on the third floor and the motion detector was triggered by water-logged ceiling tiles dropping to the floor in a main level office. This unattended leak cost the property owner over $100,000 in damages.
Now there is a simple solution: a Water Flow Monitoring sensor is installed at the main source of water entry into a building. We monitor the sensing device after hours when the alarm system is on. We calibrate the sensor based on a minimum after-hours water flow and any water flow above that setting triggers our alarm. We notify business and property managers immediately, enabling a quick response to an urgent problem even when no one is on site when the leak occurs.
Environmental Condition Monitoring
New technology has also improved our fire prevention and detection abilities. We can now detect fire risks much earlier, even hours to days before they occur.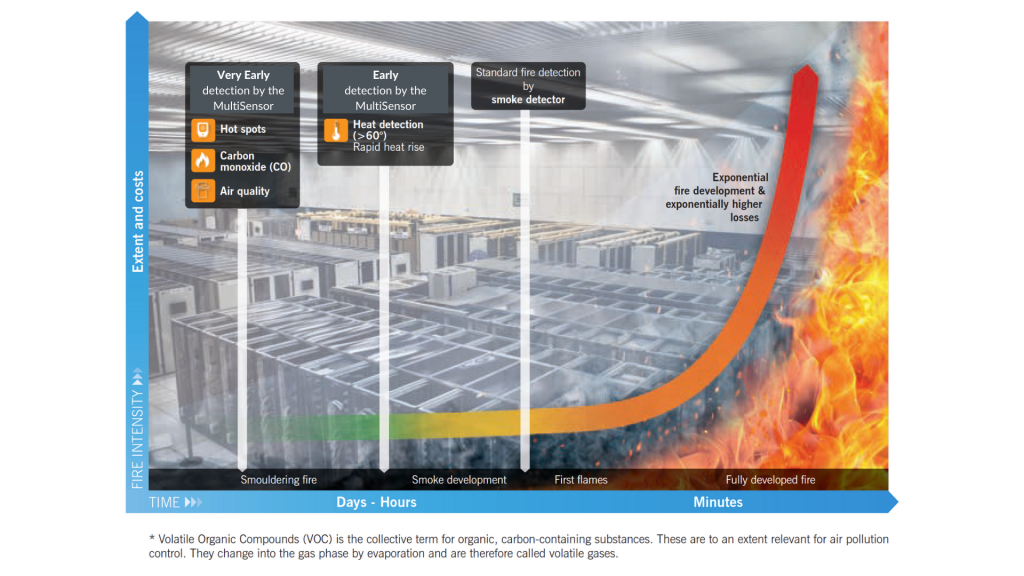 We use an Environmental Multi-Sensor that monitors a number of factors, all of which can identify fire events at very early stages:
Thermal Imaging can detect hotspots very early. Thermal hot spots can be identified in machinery that may be starting to overheat and may otherwise go unnoticed. At this early stage of detection, performing maintenance to the machine can be the difference between being shut down for an hour or two versus being down for days.
Carbon monoxide (CO) is produced during the combustion of materials. The multi-sensor can detect CO at very low levels. Sensitivity can be set between 10% (high sensitivity) and 90% (low sensitivity):
10 – 50% – low concentration of CO 10-50ppm
60 – 90% – higher concentration of CO 60-90ppm
High concentration of fire, >100ppm (smouldering fire, rapid onset of fire, advanced fire) CO concentrations as they occur in fires quickly reach values in excess of 1,000 ppm.
Air Quality monitoring detects rapid changes or deterioration in air quality, indicating increased fire risk in many manufacturing environments.
Temperature/Heat Sensor detects the steepness of a temperature increase and can be set to trigger an alarm at lower levels.
Vibration Sensor with 3 levels of vibration detection can detect when something is wrong with a machine because it is vibrating more than normal.
The Multi-Sensor can be programmed to detect trouble at the very early stages of environmental problems in any kind of building. Office spaces, factories and schools all benefit from preventative environmental monitoring. Backed by our highly-trained Monitoring personnel, we are able to create custom notifications and alarm instructions to meet the needs of your unique property.
Learn more about our Rings of Protection philosophy, and contact us to learn more about our preventative security and monitoring solutions.