For over 50 years ProTELEC has been an industry leader in safety and security, building on our extensive experience to deliver the best monitoring services and most innovative solutions.
As one of Canada's largest independent commercial security companies we are able to provide products and services to meet a full range of property and commercial security concerns. We work closely with our clients to identify solutions built on a philosophy of "rings of protection", enabling us to deliver the best in pre-emptive and proactive commercial security.
More than an alarm company
The first step in protecting any business or facility is incident prevention. From break-ins to burst pipes, the costs of even a minor safety or security incident can quickly add-up. While ProTELEC is known for providing exceptional alarm services, there are many more risks to your business's bottom-line that we can help to monitor and prevent.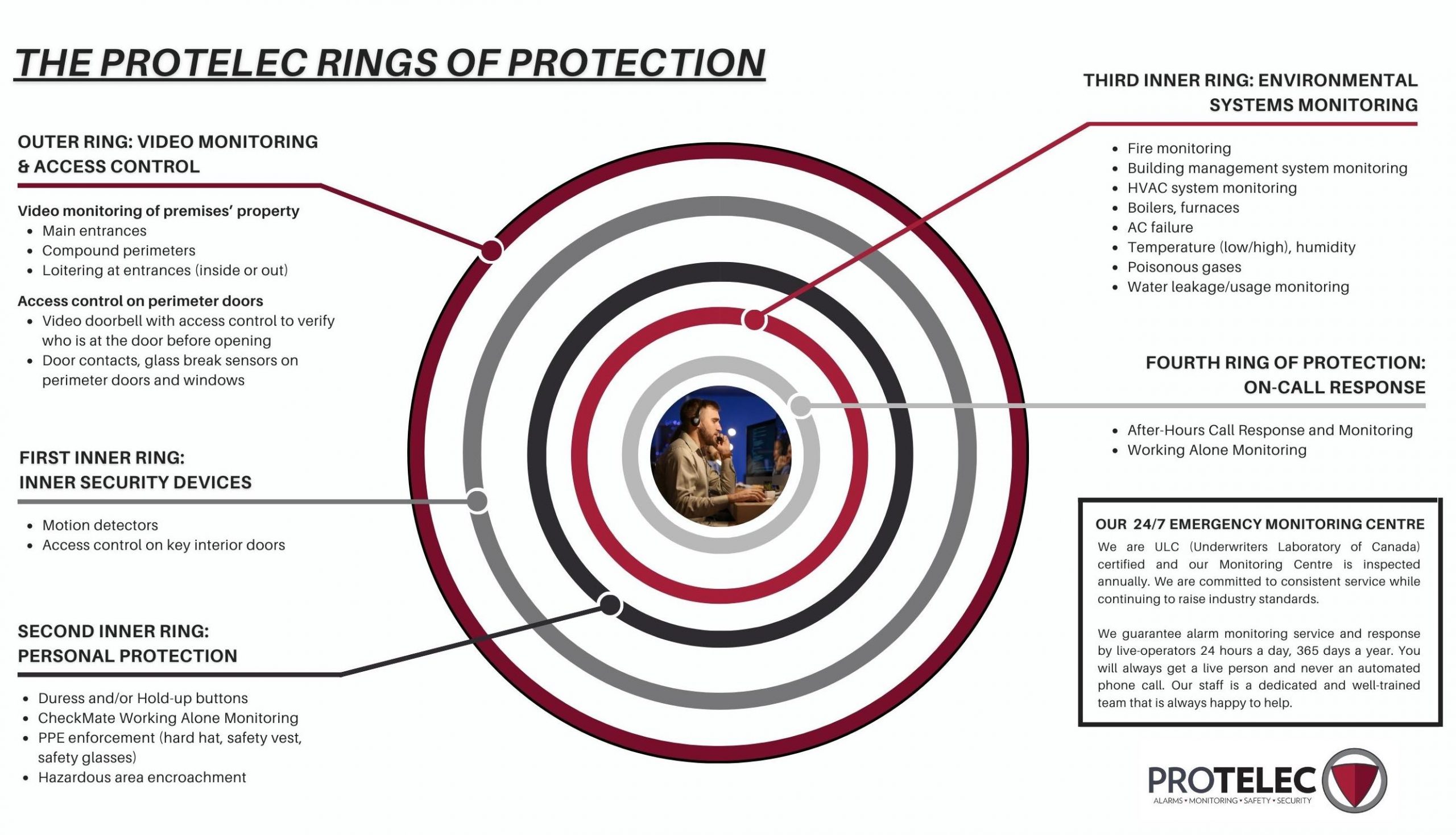 Keeping an eye on your business 
ProTELEC is a certified dealer and installer of several video surveillance product-lines. With the additional available monitoring options, your property security can be watched 24/7 365 days a year. Monitoring a property with feature rich video surveillance camera systems, whether they are wireless network cameras or thermal imaging cctv, can keep you informed about what happens throughout your business and deliver more useful information than alarms alone.
Protect secure areas with smart motion detection. Easy video data playback via web interface, standalone monitor or smartphone means that your surveillance video is useful in real-time, helping to prevent break-ins and security breaches before they can happen.
Integrated access control systems provide another highly effective way to prevent problems before they begin. ProTELEC specializes in configuring access controls to accommodate a variety of requirements. Add scheduling, commands and triggers to zoned alarms to limit access to different areas of a property.
Need to add audio to your safety and security infrastructure? We hear you.
ProTELEC provides a range of intercom and PA (public address) systems which can be deployed as an important part of any preventative property security strategy. Our intercom products include video options and provide two-way communication through voice or video, with easy-to-use interfaces and access control integration options.
For delivering key announcements throughout your commercial property or busy facility, consider a PA system which can enhance your safety protocols and enable you to easily deliver important information.
For the specialized needs of healthcare settings and to help facilitate and enhance patient care, we also offer nurse call stations. Quick and effective communication improves resident and staff outcomes. With modern designs and scalable solutions, our nurse call stations are an integral part of having a proactive safety and security plan at your healthcare facility.
Protecting employees on and off your property
The safety and security of employees and clients is also part of a comprehensive preventative approach to commercial security. Proactive body temperature screening can help prevent outbreaks of influenza and coronavirus at your facility. ProTELEC provides an accurate body temperature screening solution through our EBT Sensor, suitable for property entrances and integration with door access controls. 
For staff who are working from home, on the road, or in isolation, lone worker monitoring can save lives. ProTELEC is an industry-leader in lone worker monitoring solutions. We have developed the CheckMate Working Alone service to integrate seamlessly with our Emergency Monitoring Centre, and safety checks can be administered by phone, text, or our Safe Alone app.
Get every angle of safety & security covered by one trusted source
With flexible options for businesses of any size, and decades of safety and security expertise, ProTELEC provides a complete range of commercial security solutions that can be tailored to meet the unique requirements of your facility and operations. Backed by our highly-trained Emergency Monitoring Centre staff, and our hands-on approach to security system maintenance and inspections, ProTELEC is so much more than just alarms.
Contact us today to learn more about how we can secure your property and personnel, while protecting your bottom-line and providing you with peace of mind.